A seal pup, a man and a dog...
Greetings from Kommetjie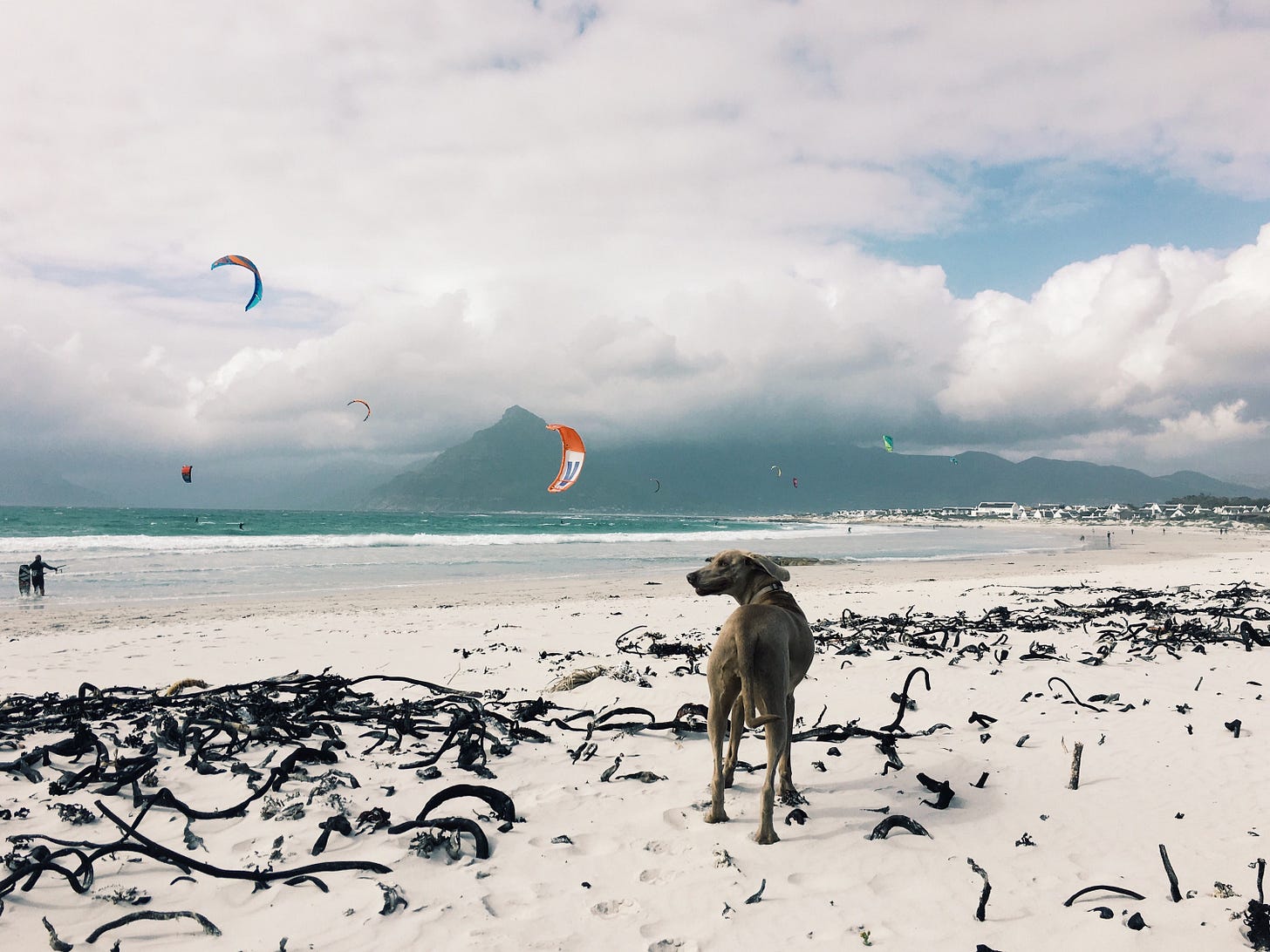 This morning on the beach, I looked up when I heard a bark. Lucy (pictured) was dashing towards a youngish seal pup which was now making his clumsy way towards the icy Atlantic. I called away Lucy, and we watched the seal's hasty re-entry into the water. In a way, his departure reminded of my own relieved arrival to this sleepy seaside village three days ago.
After a dune-sized number of meetings and deadlines (interspersed with the occasional forest walk and visits to a few of my old favourite eateries — including the marvellous-as-ever Chefs Warehouse Beau Constantia), I've retreated to Kommetjie for a few precious days of contemplative, creative quiet. A DIY writing retreat of sorts — entailing long stretches sans internet at all, deleting news emails en masse when I do go online, hitting the pause button on my (prodigious) podcast intake, and — most importantly — devoting hours to writing, reading (paper!) and long walks. Walking is a crucial component of the creative process, by the way. It's amazing how light bulbs start flashing in your head when you're amidst fynbos and staring at clouds.
---
Scribbles (and mutterings)
Finding Beauty Amidst the Brokenness: On Medium, my essay about how cultivating attention towards nature can help us to recognise signs of hope in the human world. In part, it's inspired by Jenny Odell's amazing book How to Do Nothing, in part, it's the result of a few soul-nourishing visits to Newlands Forest.
The Skukuza Science Leadership Initiative: Business Day last week published my feature on this inspiring new hub for biodiversity education and training in Kruger National Park.
A holiday of ditches, dirty nails and rotting seaweed: I recently chatted on-air with Cape Talk radio's John Maytham about the Business Day article exploring my agricultural adventures on the isle of Jura. Listen to my rambling here, or read the original article here.
In honour of the Springboks' Rugby World Cup victory, here's a piece from the archives (2016, to be exact) about the Jozi Cats, Africa's first gay and inclusive rugby club.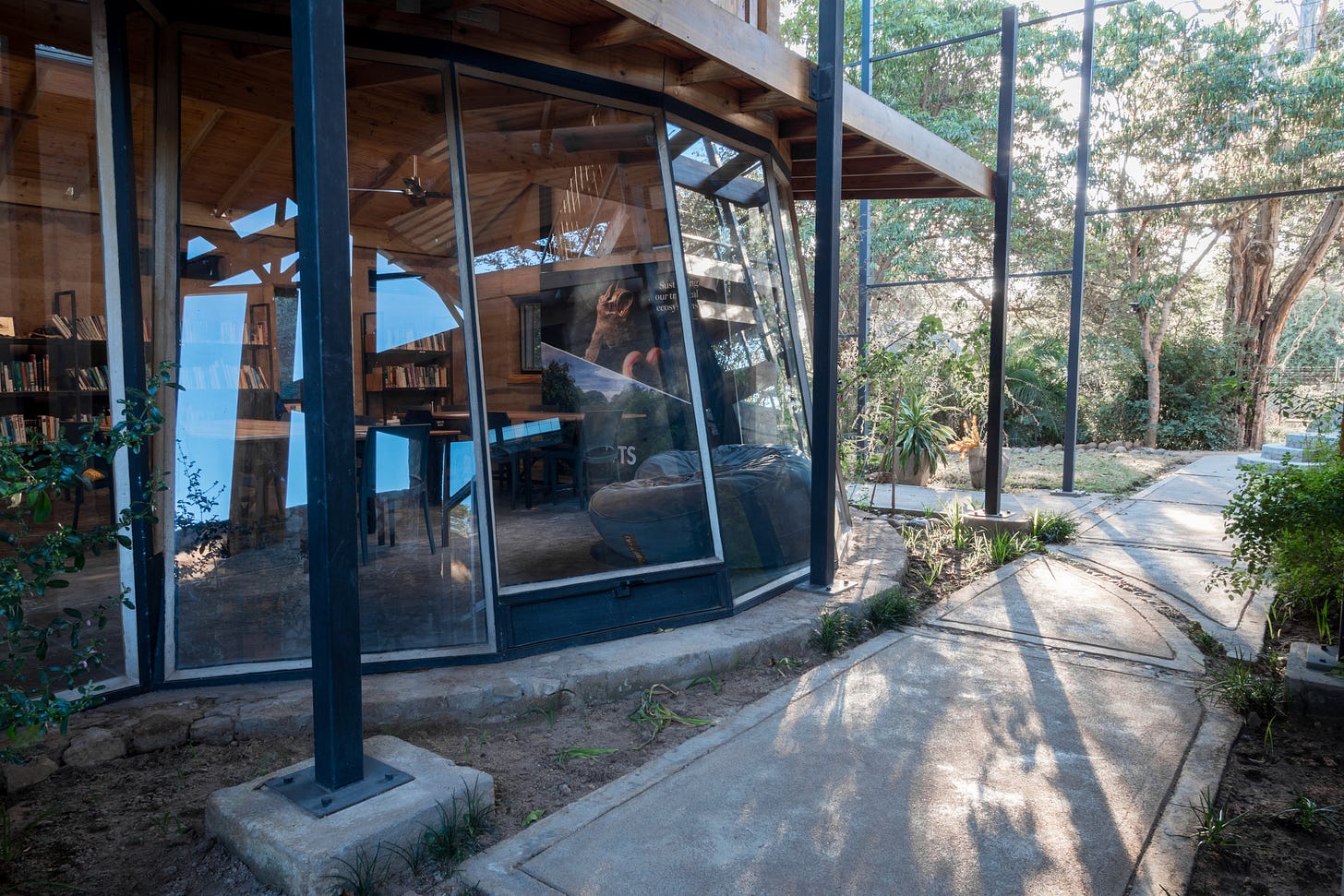 Above — the Skukuza Science Leadership Initiative (picture by Alistair Daynes).
---
Books and pods
Half of a Yellow Sun: I've finally gotten around to this searingly brilliant novel by Chimamanda Ngozi Adichie. Haunting, complex, exquisite.
Mzansi Zen — I've recently returned to reading Antony Osler's third book, which offers so much gentle, calming and compassionate wisdom about living life in a country filled with bounties of both tragedy and despair. (Read my 2016 review of the book here).
Pivot — While its two bantering hosts are a tad self-regarding, this podcast is still arguably the smartest and sassiest weekly take on the colliding worlds of tech, business and politics.
On Being — this series of conversations between Krista Tippett and notable thinkers is an evergreen favourite. I recently listened to the chats with conversation with the late poet Mary Oliver and the 2012 conversation with audio ecologist Gordon Hempton. Both capture the exquisite connections between presence, attention and the natural world — and how this can both soothe and inspire us.
---
About this dispatch: Since fleeing social media, I've resorted to good old fashioned email to keep in touch — with a monthly dispatch about where I've travelled, what I've been reading/listening to, and what I've been writing. I hope you liked it!