But why do the barns have stars on them?*
An American adventure begins.
Greetings from Bernie-land!
I'm writing this in a little off-grid cabin surrounded by silent forest. Over the last few days, I've been guzzling maple syrup and imperial IPAs, grazing on artisan cheese and stockpiling bacon sausage. Vermont—aka nirvana—is home to dangerously high levels of local, organic, grass-fed, Fair Trade deliciousness. Obesity appears inevitable — though at least it'll be of the wholesome, 21st Century hippy-liberal variety.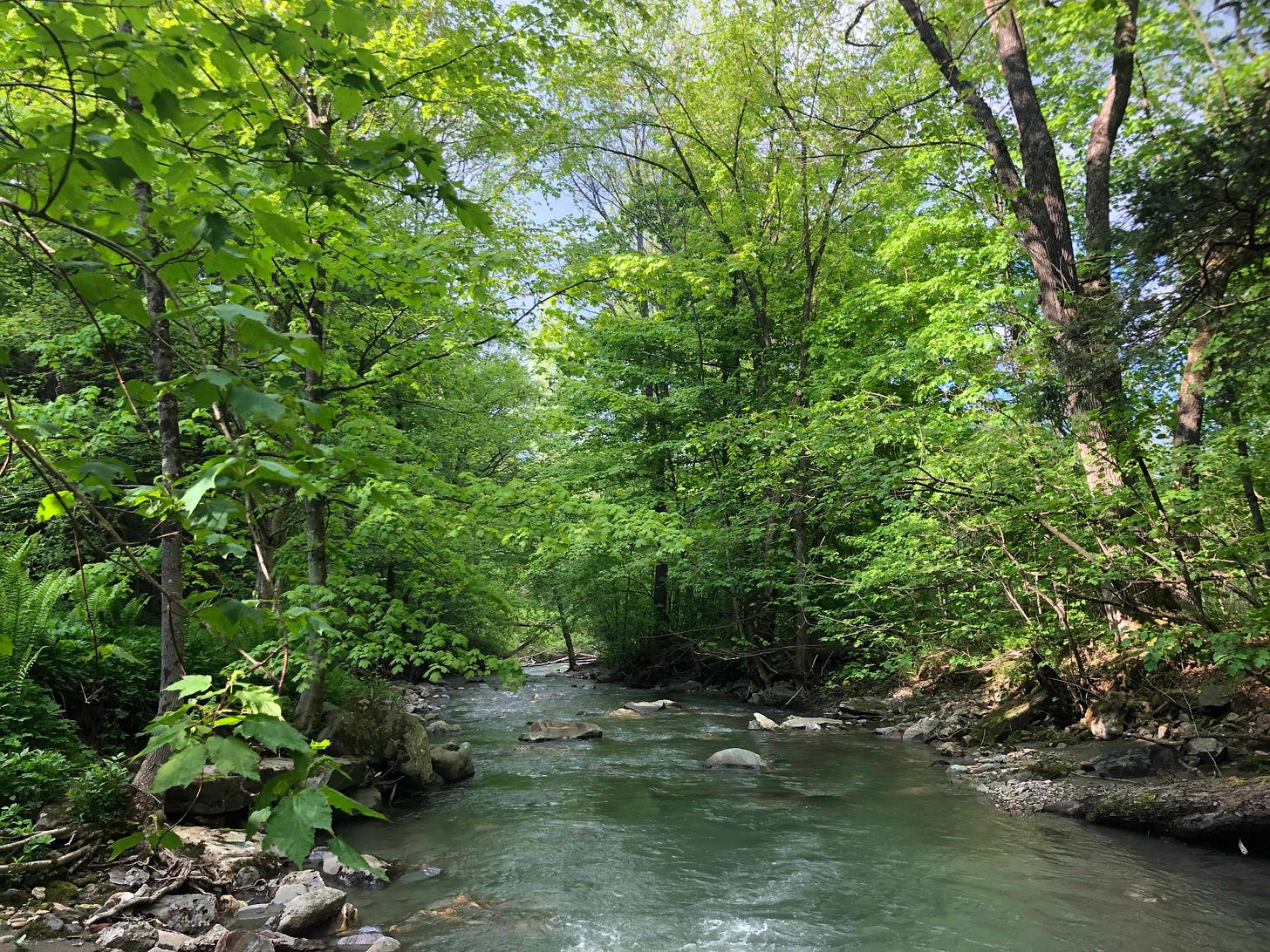 ---
Writing
I've repurposed and updated a few of my Wanted literary columns and have shared them on Medium (which is a fun platform—it reminds me of when I was an angry blogger in my late teens): take a gander at musings on travel writing, bookshops and writer's block. My whisky tasting adventure on Islay has washed up on Medium too.
Other recent stories:
Want more? Then visit my website or Medium.
---
Eyes and ears.
It's been nice reading physical copies of the New York Times but it's a pity the print quality is so surprisingly poor (they could take a leaf out of the FT Weekend's, erm, book). Outside, the increasingly woke nature/active magazine, is no stranger to diving deep into sometimes-controversial topics (eg its recent article asking whether sun tan lotion is the new margarine). I loved its May cover feature about the healing benefits of nature and have just bought a book on the topic — The Nature Fix: Why Nature Makes Us Happier, Healthier, and More Creative by Florence Williams (thanks for the tip, Duffy!) — so more about that next month.
My podcast obsession continues. Current favourite is financial journalist/author Michael Lewis's new series, Against the Rules: "a show about the decline of the human referee in American life and what that's doing to our idea of fairness". I've also enjoyed the bite-sized episodes of The Last Continent — a PBS series about Antarctica's history and uncertain future.
In celebration of the first few tentative miles taken on a transcontinental road-trip, I thought I'd inflict a few music recommendations on you too. It's a lucky packet that includes newly-released songs from the peerless Black Keys, some South African house (such as Not Serious by Siphe Tebeka), Dancehall-flavoured pop and mournful ballads courtesy of Lou Simons and Lewis Capaldi. View the complete playlist on Spotify:
---
Travel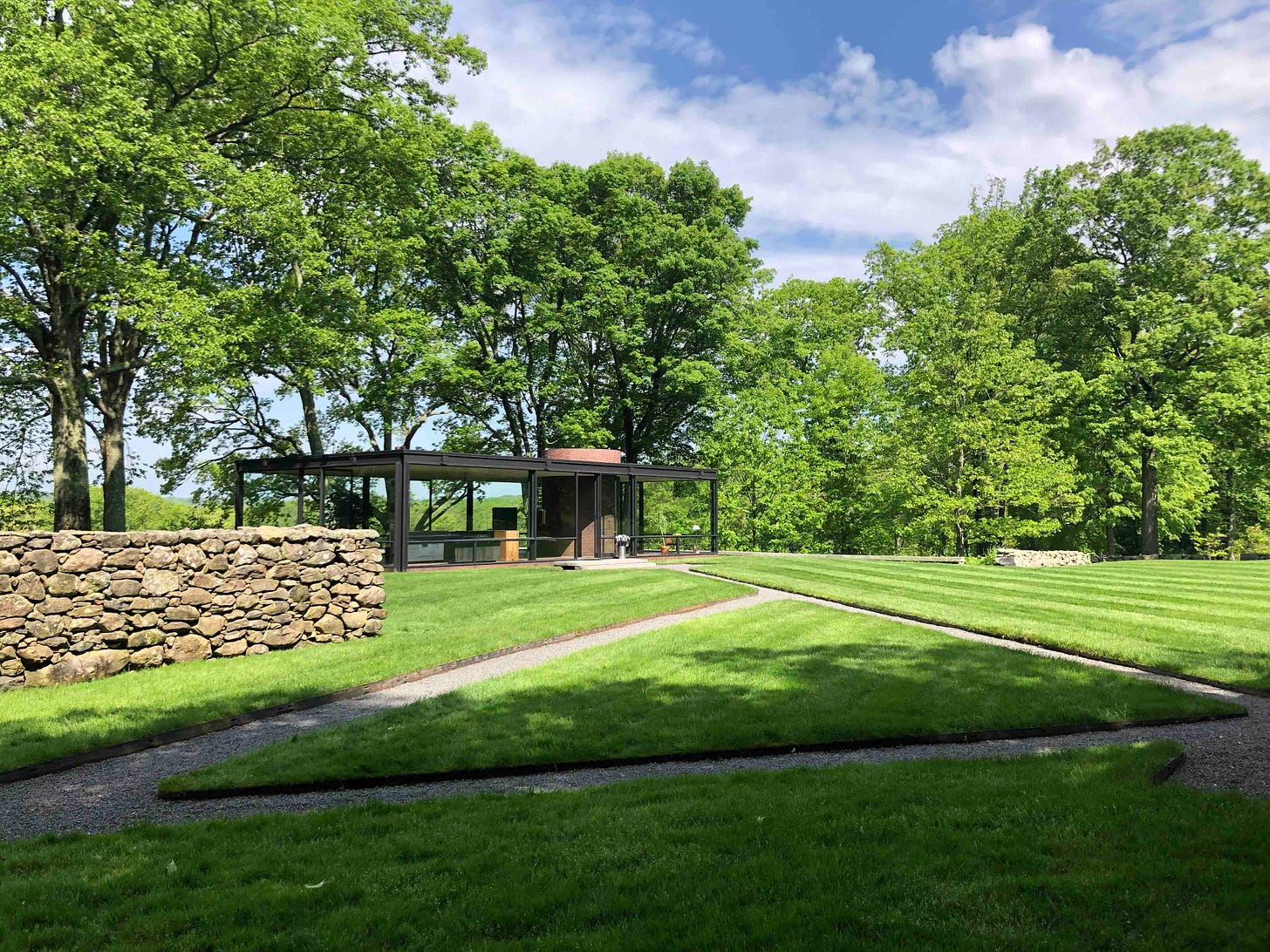 Over the last month I've mostly been exploring lush New England (which really does remind me of olde England — though here the locals have much better teeth and there are American flags ERRYWHERE). I also visited Jamaica for a few days (highlight: Jamaican food; lowlight: Jamaican service). A few other things that have stood out:
Philip Johnson's Glass House (pictured) in New Canaan, CT, was remarkable: in spite of its minimalism, this 70-year-old masterpiece had a cosy, human feel.

I loved visiting Philadelphia—which has everything NYC has to offer but feels much less frenzied. Saw Impressionist treasures at the vast Philadelphia Art Museum, ate the juiciest soft pretzels (buttered and salty) at the Reading Terminal Market, listened to Mahler's Ninth at the sumptuous Kimmel Centre, tasted stellar IPAs at Tria Taproom, and much more besides.

Connecticut and Vermont have so many lovely independent supermarkets—typically stocked with heaps of high quality local products. A favourite was the community-owned Brattleboro Co-op in southern VT. A welcome change to the monopolistic/monotonous UK and South African grocery retail scene. Meet me by the cheese fridge!
---
*Well done—you made it this far!
Curious about those barns? Wikipedia has the answer.
---
This dispatch is a monthly round-up of where I've been travelling, what I've been writing, and stuff I've been reading/listening to. If you think a friend will like it, please forward it on —I promise not to spam or stalk them, K?! And if you hate it, hit the unsubscribe button below (I'll forgive you eventually). Thanks for reading! Xx