California dreamin'
Beneath the redwoods
Greetings from the Golden State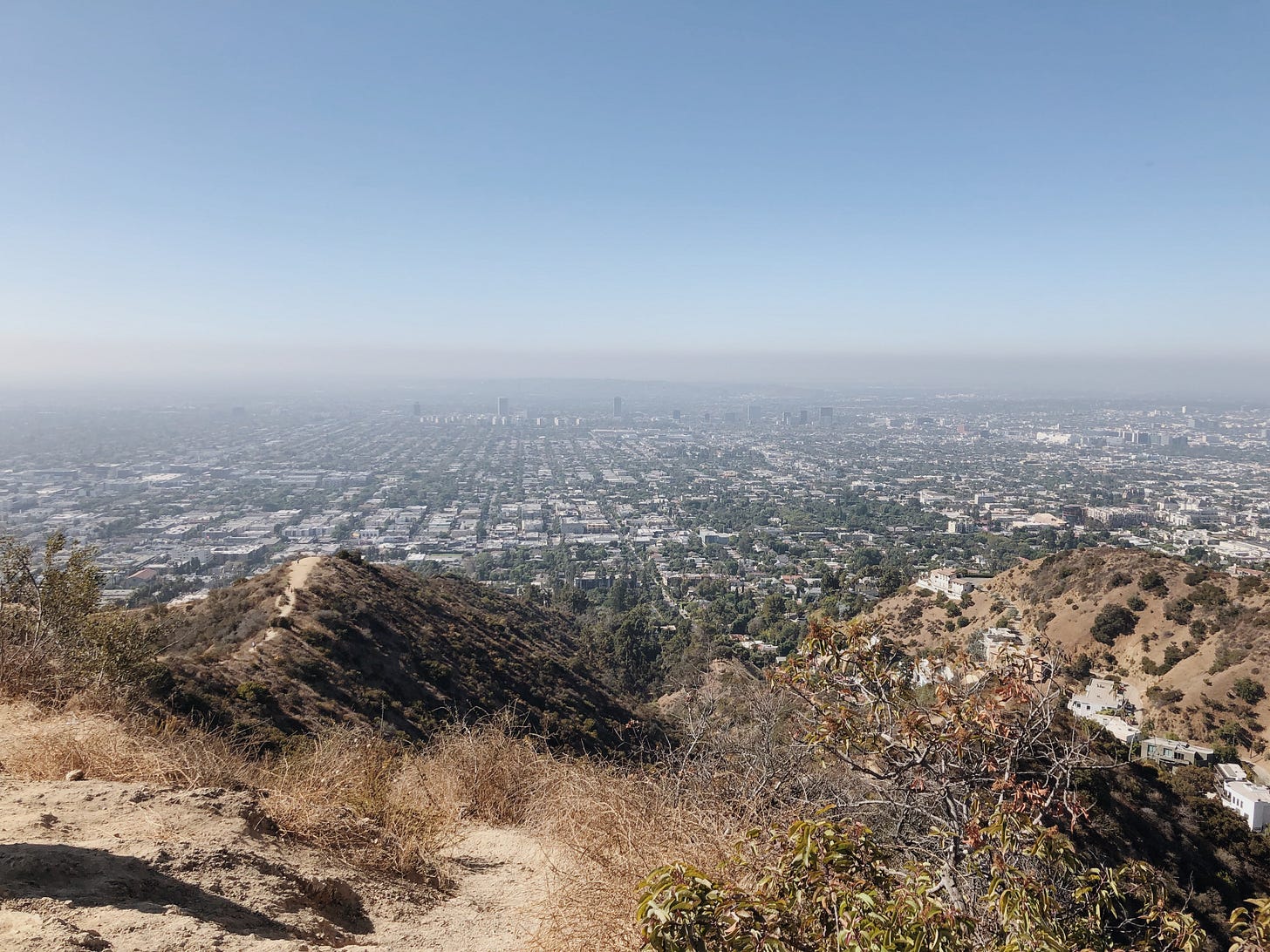 9,000 circuitous miles since setting off from Connecticut, I've reached the sun-seared, smog-stained, traffic-choked sprawl of Los Angeles. While the tacos are great and the city's (multi)cultural vibrancy and creative and economic clout are enthralling, I'm feeling a little overwhelmed. Coming after months of living a mostly rural existence, the concrete, noise and crowds are a bit of a shock to the system.
At least respite — in the form of mountains, ocean and canyons — is never too far away. And, when I'm not able to jog/stagger up Runyon (from where the above was taken) or get my toes wet at Santa Monica beach, I can daydream about the redwoods of northern California's Humboldt County. A few weeks (or a lifetime) ago, I was surrounded by the forest, neck craned and spine tingling, quietly admiring the soaring sweep of these ancient, hardy giants. There's nothing quite like trees thousands of years old and hundreds of feet high to give you a jolt of perspective. These evergreen koans are wordless yet wondrously wise — if we're prepared to stop and listen to them.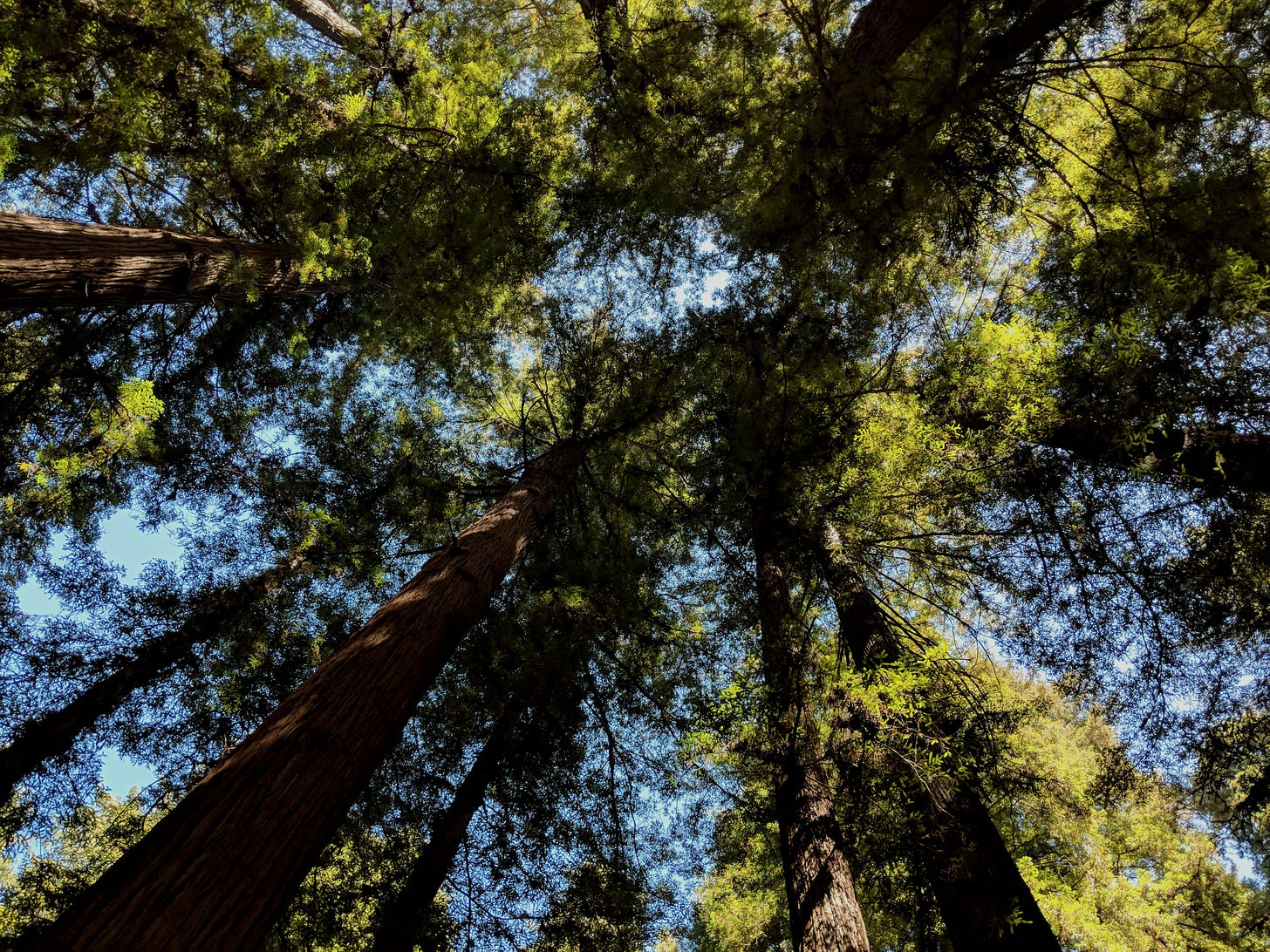 ---
The long road south
I'm sorely tempted to run away to live on the (blissfully WiFi-free) lavender farm we stayed at in Mendocino. In this rural, quiet, understatedly stylish county four hours north of the San Francisco Bay Area we:
Wallowed in a shady swimming hole (Jenny Odell captured the magic of California's swimming holes in a recent NYT piece — thanks Carien!)

Browsed at the excellent Gallery Bookshop which overlooks the headlands in charming Mendocino village

Ate fantastic food, including crab bisque and a codfish sandwich at the all-female-run Princess Seafood in Noyo Harbour and heavenly, charred pizza from Café Beaujolais' hole-in-the-wall pizzeria, The Brickery

Rode horses on a beach and kayaked through rumbling sea caves

Tasted Chards and Pinot Noirs in the redwood- and vine-covered Anderson Valley
Then came Sonoma County: the hushed and sterile "utopia" of Sea Ranch followed by scruffy, campy Guerneville. Bougie Healdsburg nearby was more my style (and palate: a tasty stromboli in the courtyard of Italian restaurant Campo Fina; Pinot Noir and Pinot Gris from Landmark at Hop Kiln along the winery-studded Westside Road).
Santa Cruz was like a Californian Blackpool. During our brief pitstop there, I felt as if I was trapped in a Lana del Rey music video — its gaudy Boardwalk the embodiment the epitome of summertime sadness.
Luckily, we had Big Sur to escape to: bracing river swims; a hike among redwoods. And my absolute favourite: a 1am soak in Esalen's hot springs, watching the misty moonlit waves smash the rocks below.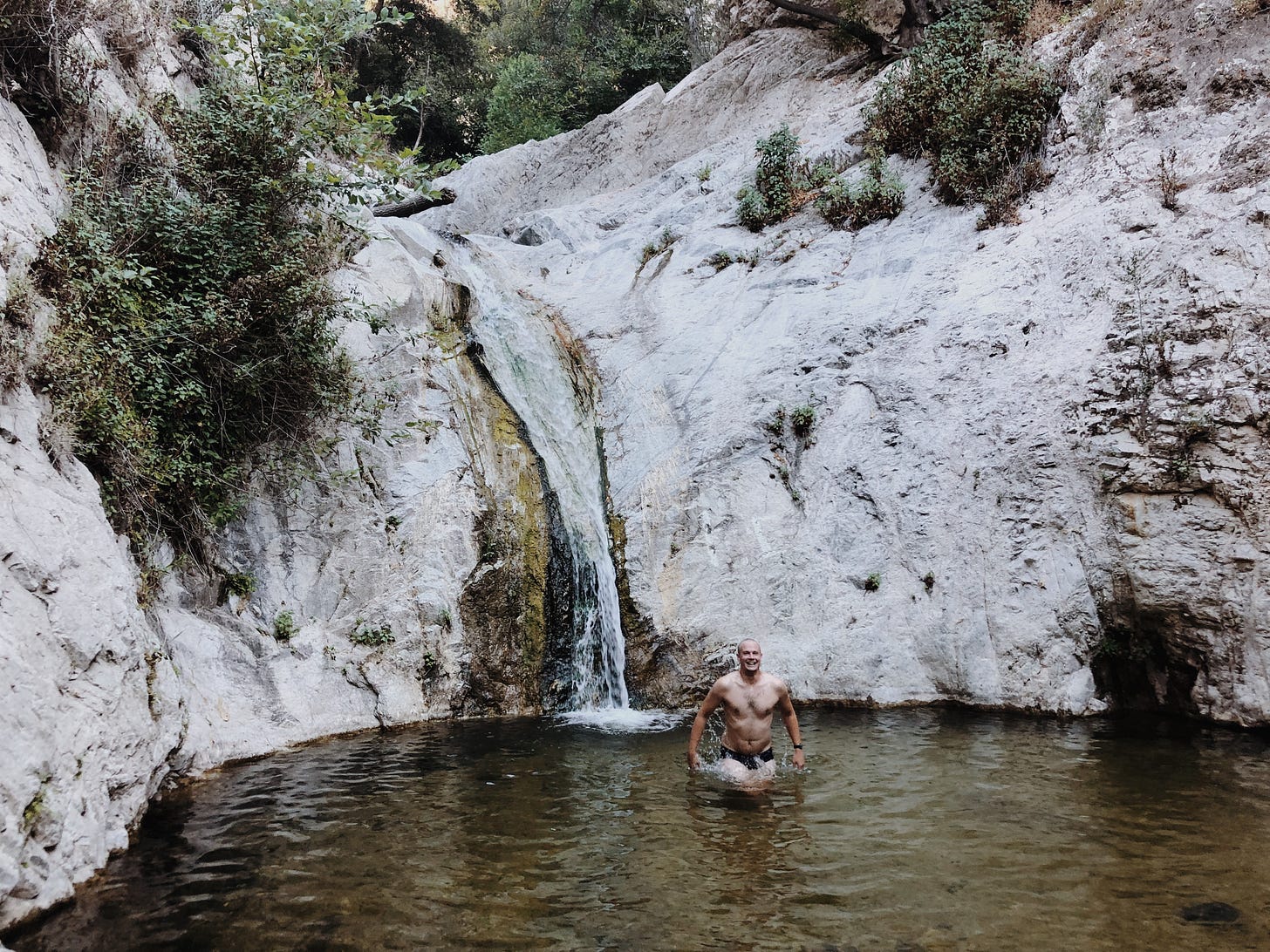 Pictured above: Switzer Falls in the San Gabriel Mountains, a 40-minute drive (and then two-mile hike) from our north-east LA Airbnb. Paradise!
---
Jottings
A pithy Q&A with artist James Delaney in MONOCLE's July/August cities-focused issue about how he and other volunteers transformed a Joburg park from a crime-ridden no-go area into an urban sanctuary. It's behind a paywall, but you can read the extended version on my site

On Medium, an account of my recent travels in the Pacific Northwest and British Columbia
---
Books and pods
The Nature Fix by Florence Williams: An easily digestible treatise on the sciencific research which explains why standing under redwoods (or hiking in the desert, or even a stroll in your neighbourhood park) benefits body, mind and soul

Dancer from the Dance by Andrew Holleran: By turns hilarious, heartwarming and tragic, this 1978 novel (republished this year with a lovely forward by Alan Hollinghurst) elegantly and clear-sightedly captures the hedonistic frenzy of gay New York life after Stonewall and before AIDS. I'm pairing it with The Gay Metropolis — Charles Kaiser's magisterial non-fiction account of gay life (and the gradually increasing tolerance of it) in American cities from the '40s onwards. As we celebrate the 50 year anniversary of the Stonewall riots, inhabiting a time where "queer" is now mainstream and Pride has become a commodified and corporatised pastiche of its former activist self, I figured it's worth being reminded of the courage, sacrifice, loss and lives of the queer people who've endured far greater prejudice than I (thankfully) have

Bundyville: I'm a few episodes into this rigorous, nuanced and spellbinding podcast about the ranchers fighting the US federal government. It touches on so many important themes — including religious fundamentalism, right wing terrorism, the future of public lands — and how these all intersect. This is podcasting at its addictive, thought-provoking best
---
This dispatch is a monthly round-up of where I've been, what I've read/listened to, and what I've written. Thanks for reading!