Love in the time of coronavirus
Welcome to the new normal.
But first, the good news
I'm really chuffed to introduce you to TONGUES, a new space for "conversations with questioners, mavericks and mavens". Our launch interviewees include:
Intrigued? Find out more by reading the TONGUES Welcome Letter.
---
This bloody pandemic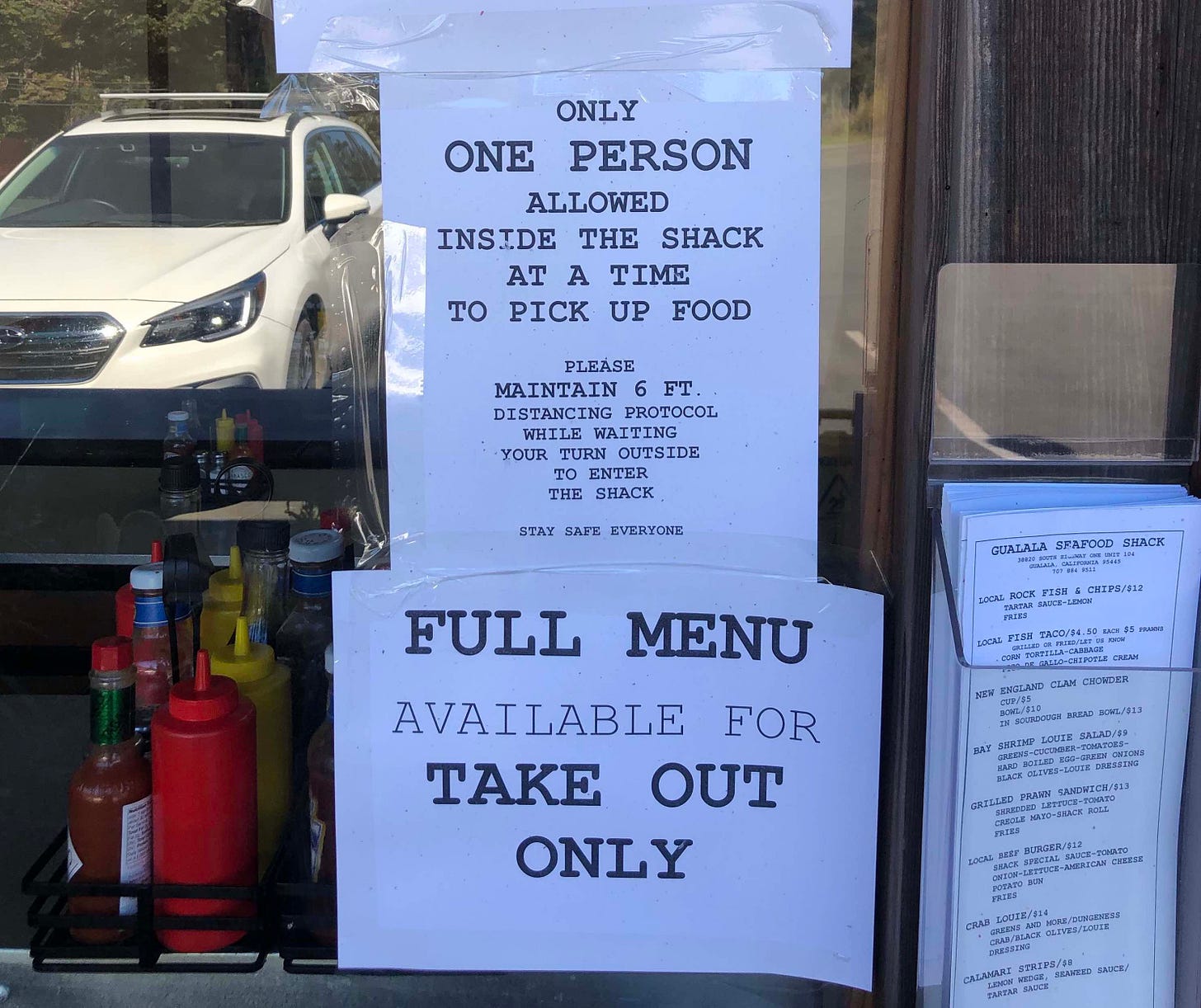 I've been following COVID-19 obsessively for a while now. This (mostly) hasn't come from a place of fear, but rather from an unquenchable urge to try to understand how this new disease will affect the world and all of us in it.
This morning, while watching a Visit Portugal video, I started sobbing. Not just because the clip was unexpectedly moving (also, I really love Portugal). No, I think my crying was largely because I was still digesting the latest slew of ominous data and the ramifications of the pandemic (in the US and SA). What's quickly becoming clear is that things are going to become tough for most of us. What's also clear is that, like in most crises, the poor, marginalized and vulnerable will be hit the hardest (economically and in health).
The need for major, systemic reform in the USA, SA and many other countries couldn't be more urgent — big changes to provide more protections and opportunities for those that need them the most; big changes that will make these countries safer, fairer and kinder places. Those reforms will have to wait, though, until the pandemic can be brought to heel. In the months ahead, the role of the individual will be hugely important — and our actions (even ones as simple as staying home, generously tipping your Uber Eats courier or signing up to a CSA) will have the potential to change lives if enough of us do them.
At a time like this, we need to cultivate as much compassion as we can:
Towards ourselves, because goodness knows we'll need it on a road that's only going to get bumpier (for the next few months, at least)

Towards our brave medics who will save as many lives as they can and, in the process, risk losing their own

Towards everyone else, but especially:

The already-sick, the elderly, the homeless, the unemployed and many soon-to-be-unemployed

Those reliant on public services (e.g. therapy, treatments, school lunches) which have now been put on-hold — as well as folk who've been needing those services but weren't getting them in the first place
Doubtless, COVID-19 has already inconvenienced you in ways both big and small (see below). In all likelihood, though, there are others nearby for whom its impact will be much greater. Do what you can to help them. I promise I'll do my best to do the same.
One more thing before I hop down from my soapbox. As fascinating, mysterious and frightening as it is, don't read too much about COVID-19 (as I fear I may have been doing). It gets to you — and what we will soon be needing in abundance is hope, optimism and kindness to others, not despair, frustration or apathy. Stay informed, but make sure you allow time to switch off too. Here's something I wrote (months ago/a lifetime before COVID-19) about the extraordinary power of phone-less time in nature. If you're permitted to leave the house for walks (as mercifully we are here in California), I urge you to try it.
And if you've been living under a rock and want just a couple of reading recommendations to get up to speed, then here you go:
---
Cancel culture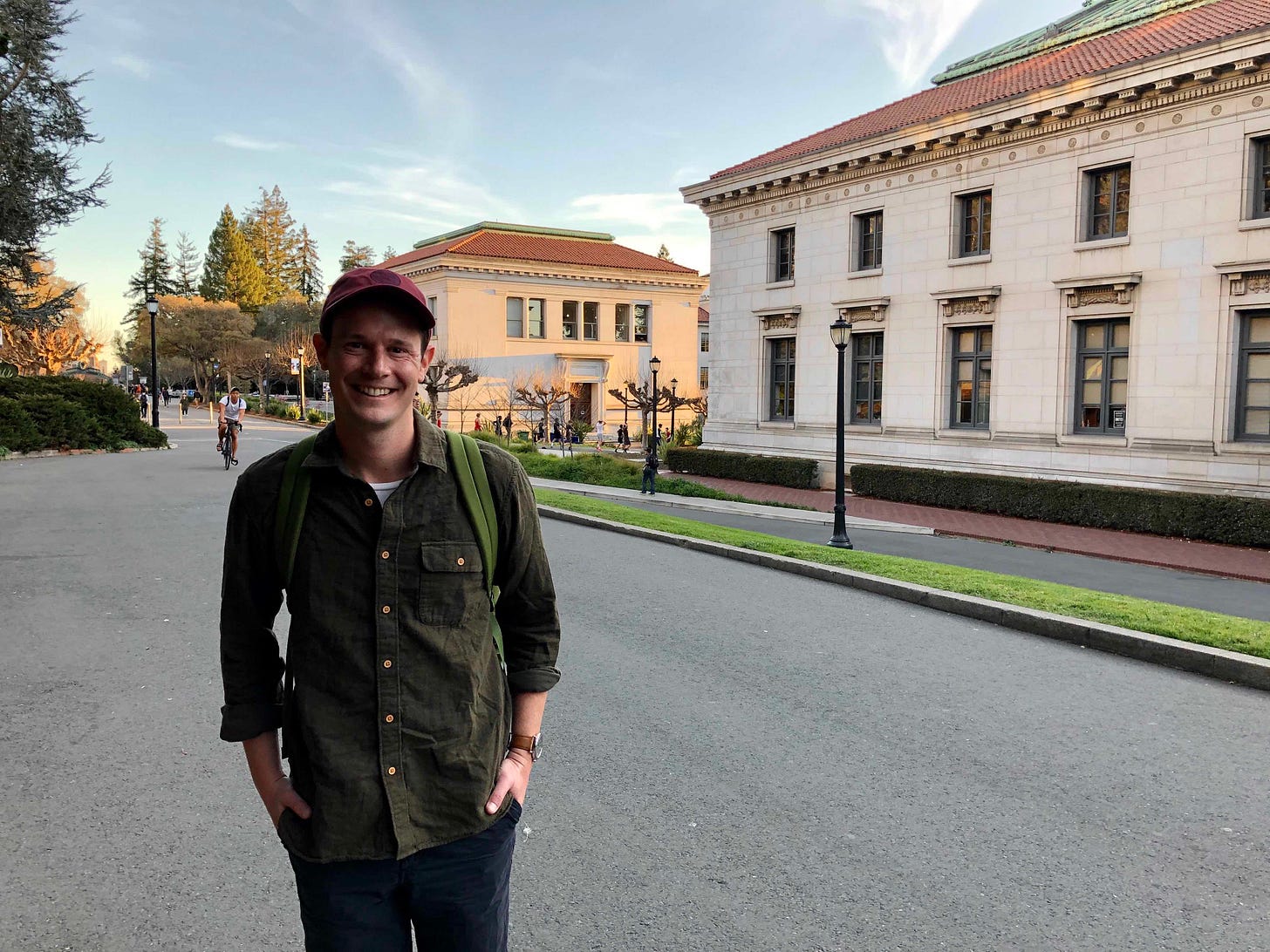 Back to school. This was me before my first class on UC Berkeley's gorgeous campus a few weeks ago. After class three, my part-time course was postponed and I have no idea when it will resume. Thanks, COVID-19!
---
Crooning for your quarantine
Compiled by yours truly: Pandemic at the Disco, a playlist inspired by (and hopefully a mild palliative for) these trying times. Featuring mostly trashy pop, it includes "Don't Start Now" (Dua Lipa), "Mystery Disease" (MGMT) "Scared to Live" (The Weeknd), "Solo Dance" (Martin Jensen), "Harder to Breathe" (Maroon5) and "No Time to Die" (Billy Eilish) and many more. You say bad taste, I say gallows humour!
Listen to it all here:
---
You've made it to the end of my monthly-ish dispatch (which, in less crazy times, normally covers where I've been, what I've been reading/listening to and what I've written lately). Keeping in touch is more crucial than ever before — but, because I hate social media, I started these missives using old-fashioned email instead. Replies are welcome and appreciated! Especially if they contain droëwors (jerky really is an abomination), DIY COVID-19 tests or the lemon verbena-scented Mrs Meyers. Book and Netflix recommendations will do just fine too!