The stars dancing at the bottom of the sea
Hello from California
Amidst rising coronavirus panic, a plunging stock market and an interminable, exhausting American election season, a recent a visit to Monterrey Bay Aquarium proved to be a much-needed tonic.
I hung out with the African penguins (we compared notes on immigration, homesickness and Tito's brave budget) and got to watch three adorable sea otters be tossed their mid-afternoon snack. The unexpected highlight, though, was the jellyfish. Various species were pulsing, glowing and flowing happily in their royal blue tanks — iridescent, wordless poetry; living 3D abstract art, both ancient and utterly modern. They were a joyously trippy reminder that there's more to this world than rogue viruses and billionaire presidential contenders.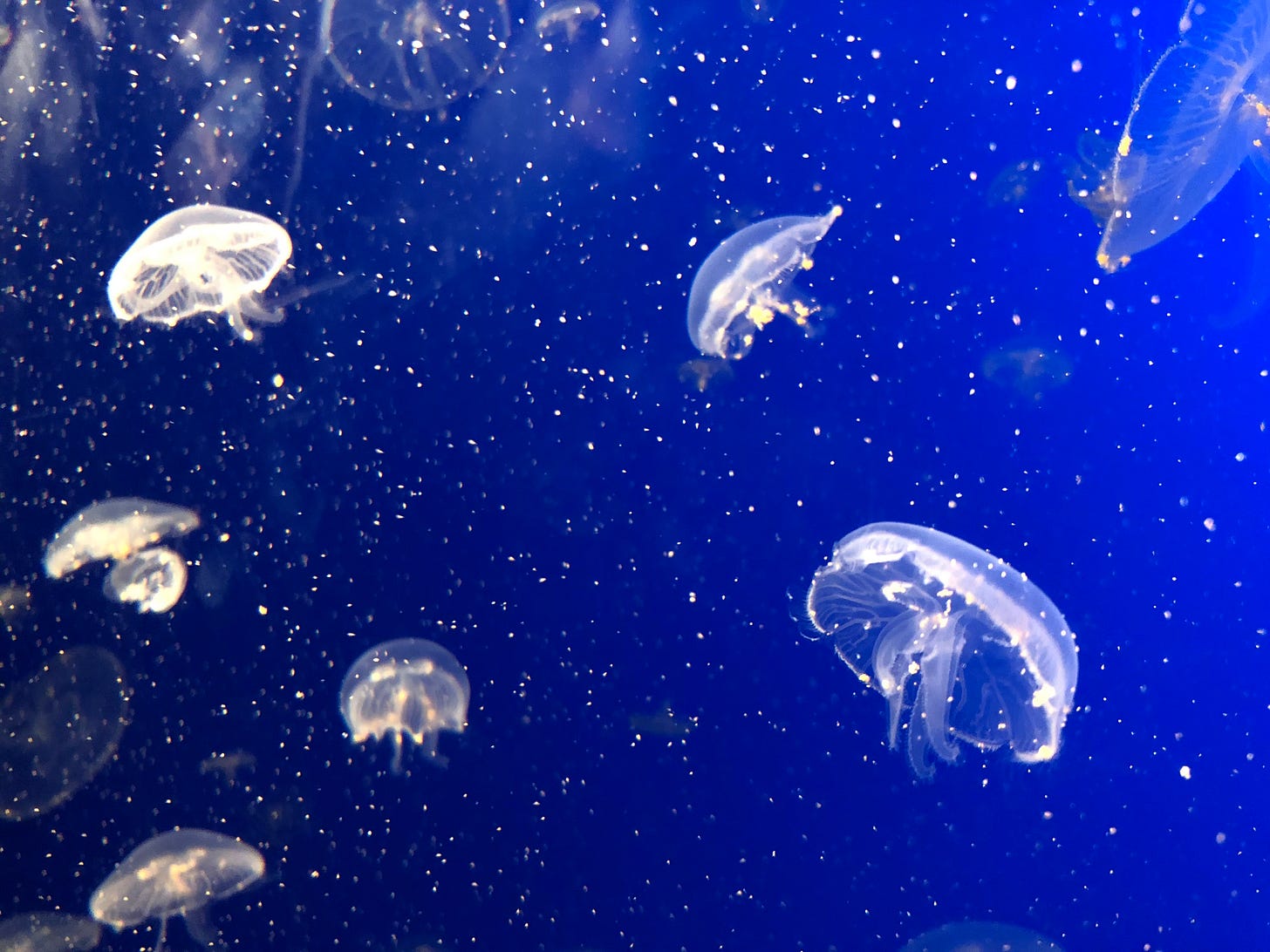 ---
Recent scribbles
For the BBC, I've written a feature on the huge benefits of planting spekboom (or, in ecologist-speak, "restoring degraded thicket"). This South African native succulent sequesters carbon as effectively as a forest does. (Side note: its leaves apparently taste delicious in a G&T.)
For Business Day, I wrote a piece about Bao Down, one of my favourite Cape Town restaurants — an Asian-inspired delight in a city with a shocking dearth of decent Far Eastern cuisine.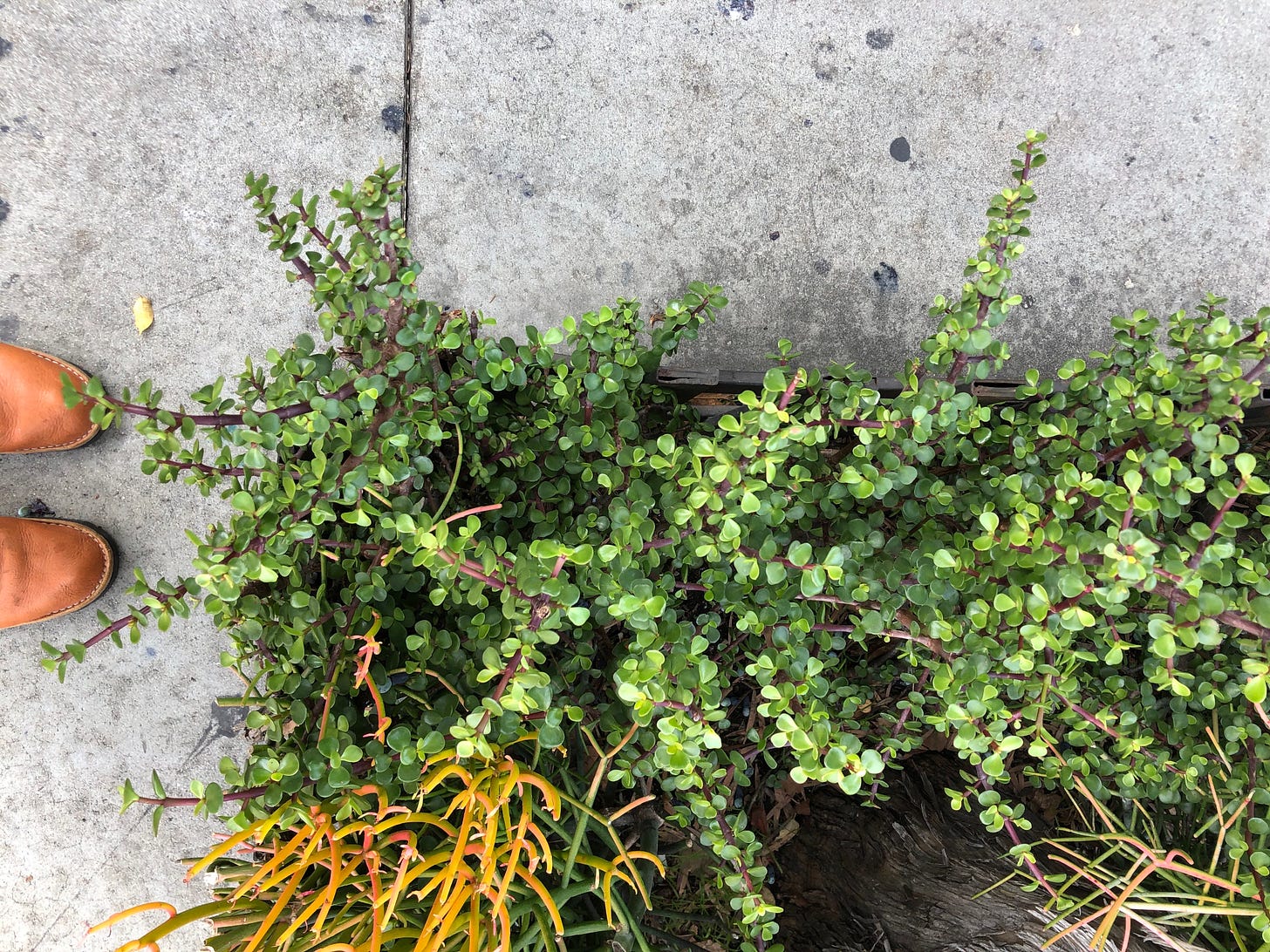 Spekboom spotted on Fairfax Avenue in LA. It's good to see another South African transplant thriving in California. The boots are Namibian kudu leather handmade in Swakopmund.
---
For your eyes and ears
In The Memory Palace, Nate DiMeo brings history vividly to life with his short, gorgeously emotive and lyrically phrased vignettes. My favourites (so far) are this one about air pollution (and so much more) and this one, about the oldest surviving gay bar in America. A lovely New Yorker profile gives the background to this pod.
The Catch and Kill Podcast, which shares the personal stories of several sources Ronan Farrow encountered during his tenacious Harvey Weinstein investigation, was utterly fascinating.
Links I loved:
(I am about 120 pages from the end of Richard Powers' Pulitzer-winning novel The Overstory. It's utterly gorgeous — and IT'S ABOUT TREES! — but whoah, did it have to be this long and meandering? Or is that just my frazzled attention span complaining…?)
A few books I've put on my to-read list for 2020:
What else should I be reading this year?
---
Slate skies, chilly streets and an elopement to Africa
Earlier this month I visited America's still-brisk Northeast for some quality time with friends and family. In NYC, food favourites included:
Dangerously delicious negronis at the old-school Brooklyn Italian restaurant, Queen, yummy Greek on the Upper West Side, gorgeous Georgian, and maybe the best ramen I've ever had (featuring a spicy miso bone broth) at Za-Ya

Insanely good crullers from Daily Provisions and, of course, the crack pie from Milk Bar
Thank god I was doing so much walking.
I also visited the glorious, grand city of Philadelphia, where my better half hails from. As close family (and a few somberly still antelope) looked on, a retired judge married us in the African Hall at the Academy of Natural Sciences (the oldest natural history museum in the western hemisphere, FYI). Along with daily moisturizing and the occasional use of conditioner, marriage is a welcome sign that little Alex is (finally) growing up. Praise be.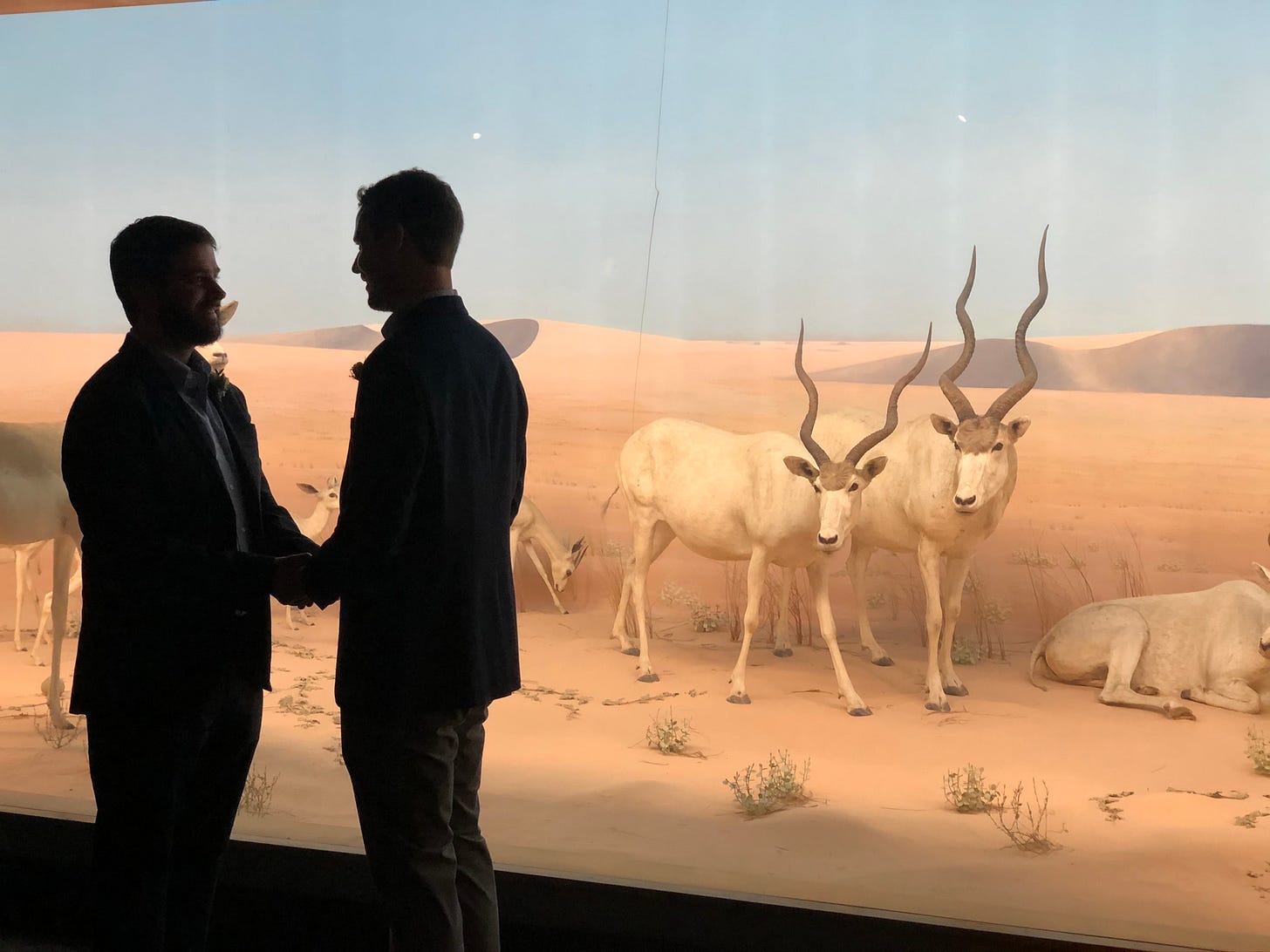 ---
Thanks for reading my monthly dispatch! If this made it into your inbox, it's because, despite ditching social media, I'd still like to keep in touch. Every month, I typically cover travel highlights, what I've been reading/listening to lately, and newly published articles of mine.
Replies are always welcome! Feel free to hit me up with gossip, life updates, podcast recs, Goop-endorsed face masks or cut-price Pete for America merch.