Waiting for the rains to come
(They can't come soon enough.)
According to this delightful FT interview, the actor Sir Anthony Hopkins is a big deal on the socials. The article quotes a July Insta post of his:
Congratulations to the class of 2020… I read somewhere, I can't remember whether it was in the Old Testament, or I think it was a shaman, and the shaman said – there was a drought, cattle were dying, people were dying in the desert – and the shaman said, build the ditches… Dig the ditches and the rain will come
Now, no matter where you are in life, I figure that you, like me, are part of the class of 2020 — after all, this year certainly has been an education (and it's not just your newfound mastery of sourdough I'm talking about).
May we all have the strength to keep digging those damn ditches.
---
The Golden State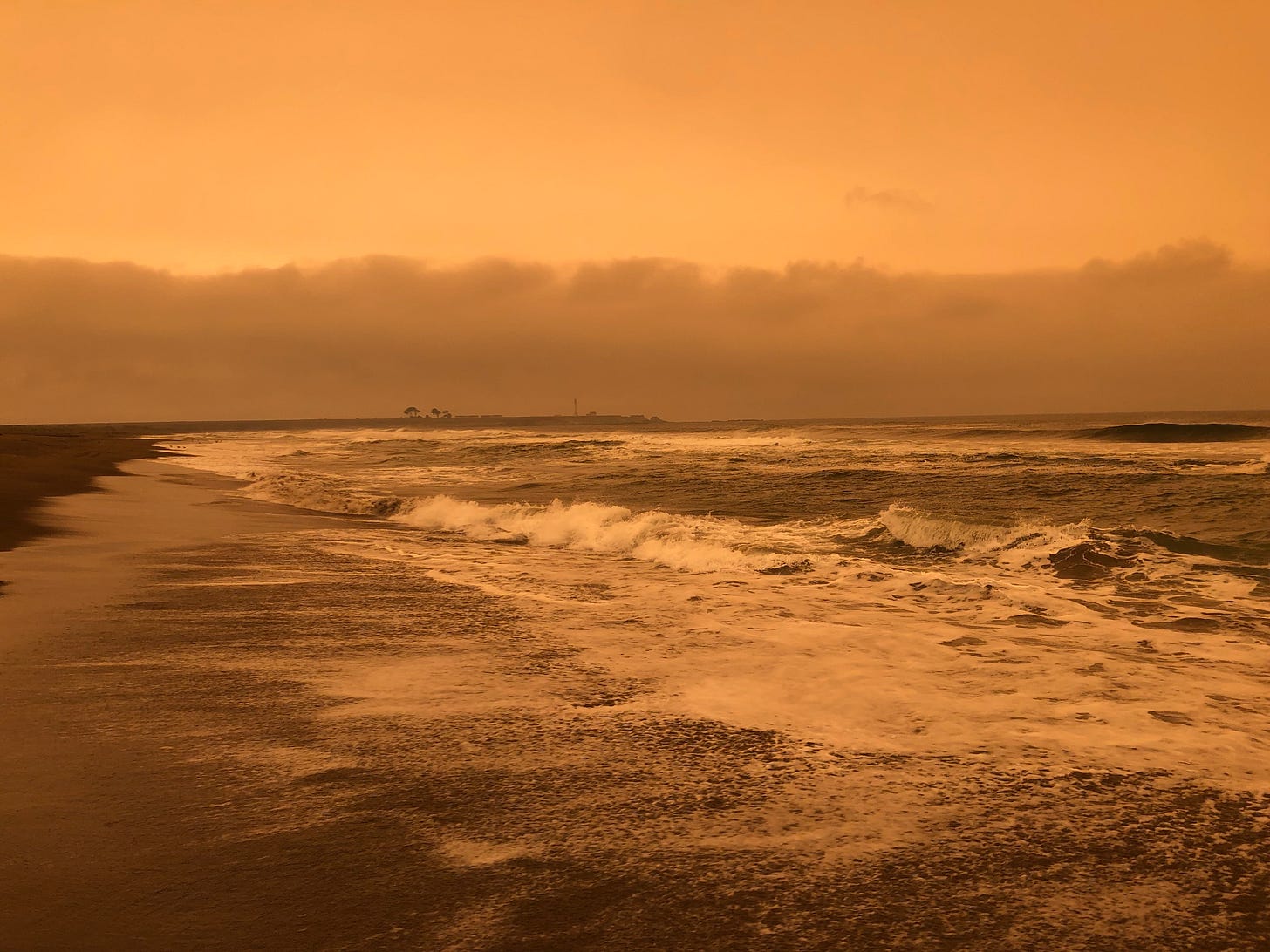 As I'm sure you know, California — particularly its tinder-dry hinterland — could do with a downpour or three. Here, smoke casts a sepia tint (no filter necessary) in this image I took on 9th September at Manchester State Beach.
With conflagrations across the state, I've found myself turning even more intensely towards water (always a balm for me) for succour. Frequent dips in the mind-numbingly cold Pacific; an overnight hike up a river to secret hot springs. I've stopped stopped resenting marine layer — the dreary fog that frequently blankets the Pacific coast in late summer: it's perhaps our most potent fire deterrent. Right now, each drop, wave or misty morning feels like a reprieve; a reason to be grateful.
---
A chat with Christos Tsiolkas
On my last visit to Melbourne, I had the great privilege of interviewing Christos Tsiolkas, author of books such as The Slap, Barracuda and Loaded.
Tsiolkas generously shared insights on many things, including the creative process, writing as surgery, what it means to be an Australian writer, as well as the importance of being both fearless and heretical.
---
You're invited
I'm part of a creative writing group that meets every Thursday on Skype to share feedback on each other's pieces (these are typically written in response to a prompt given out to the group the week before)

With a friend, I've started a book club which meets monthly (also on Skype — yes, old school) — where we aim to plug the more embarrassing gaps in our literary education by reading books from the 20th Century and earlier that we feel we ought already to have read. Right now we're reading Austen's Emma (how could I not have read Emma?!); before that it was Lessing's The Grass is Singing and Tolstoy's Hadji Murad
If you're interested in joining either / both groups, just email me for more info. Both are very relaxed and informal.
Of course if you fancy a Skype, but don't feel like discussing works by Joyce/Nabokov et al. (or, indeed, sharing your latest short story/Petrarchan sonnet/personal essay), I'm down for that! Though, let's just not call it a "Virtual Happy Hour", please? Not least because chances are you'll be drinking red wine and I'll be drinking coffee…
And then, a non-Skype related notice: super-talented Cape Town-based artist Paul Edmunds has just launched PENUMBRA — a "home for news, views and resources to do with climate change". It's early days, and already there's some great climate/environmental-related book reviews, an essay by the wonderful Hedley Twidle and an interview with the head of Fossil Free South Africa. Sign up to its newsletter to keep abreast of new content.
---
The Department of Guilty Pleasures
Eating an (extremely delicious) double quarter-pounder at the nearest McDonalds to us (90 minutes away); then reading the next day how Cargill, (aka "The Worst Company in the World") — its main supplier of beef and chicken nuggets — is guilty of deforestation in the Amazon. I don't suppose whether or not I eat a McDs burger once every three months is going to stop deforestation in its tracks but, still, it left a sour taste. From now on, it's back to homemade grass-fed patties, I guess

Devouring the Skor toffee bars I bought to use as an ingredient in chocolate chip cookies (a sign, perhaps that baking fatigue has finally caught up with me?)

Kylie's new single (I know, I'm sorry!) and Sia/David Guetta's "Let's Love" ("this too shall pass / and we'll get through it all / together," she sings — and I'm tempted to believe her)

Chernobyl — a pantomime rather than a painstaking portrayal of the 1986 nuclear disaster, with a welter of historical inaccuracies, an almost-entirely-British cast, and infuriatingly melodramatic plotting — nevertheless, I was unable to stop watching this HBO miniseries

Top of the Lake, the 2013 BBC crime drama… implausible at times and creepy all of the time; Elisabeth Moss, its star, is wonderful as always (and does an impressively credible Kiwi accent); the South Island's rugged landscapes make for a pretty splendid backdrop too

The Bang-Bang Club — the classic memoir by photojournalists Greg Marinovich and Joao Silva about capturing on film the violent upheavals preceding South Africa's first democratic elections; fascinating, unputdownable but, in the end, its skin-deep self-awareness was disappointing; as a portrait of adrenaline-fuelled machismo and a country on the brink, it's certainly a vivid one, though
What are your guilty pleasures right now?
---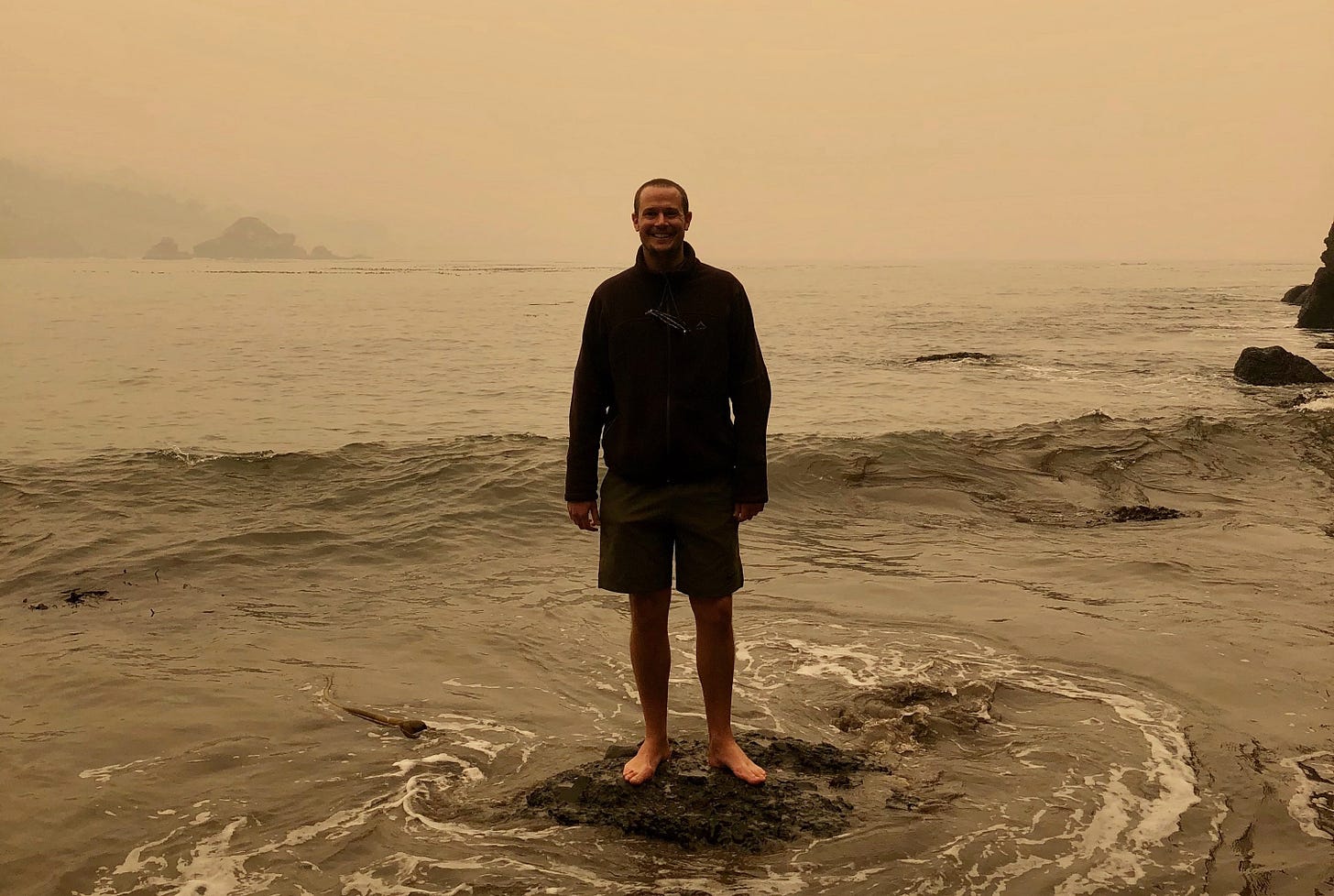 You've made it to the end of my monthly dispatch — thanks for reading. After abandoning social media, I started these monthly-ish missives using old-fashioned email instead. Replies are always welcome and appreciated (especially if they contain a new favourite show, more Skor bars or a fire extinguisher).